Wigwam Garden Memorial Walkway
Remembering those who have passed. . .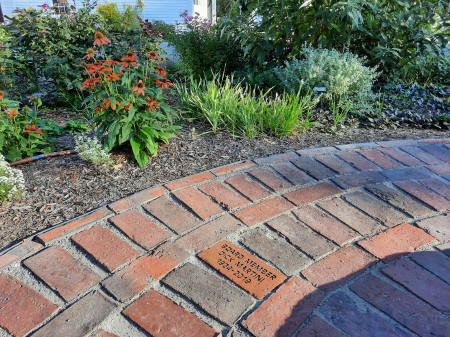 As a way to honor those who have come before us, the Historical Society has created a Memorial Walkway in the garden behind the Wigwam. Engraved bricks can be purchased and placed in memory of deceased Historical Society members, or for those who resided in Amherst for at least a portion of their lives.

Thanks to the efforts of the Amherst Garden Club, the walkway is surrounded by historic and beautifully maintained plantings – a serene spot to remember the many who contributed to preserving Amherst's past and to making it the wonderful community it is today.

The Historical Society kicked off this walkway project by placing bricks for the last five Board members who have passed - Charlie Duval, Bonnie Struss, Dick Martini, Helen Rowe and Bill Wichman. We hope you'll consider memorializing someone special with a tax-deductible gift of $100 per brick. All proceeds will go toward the maintenance and preservation of the Historical Society's two museums and the artifacts they house. Engraved bricks will be installed in groups throughout the non-frozen year.

To order by mail, complete the Brick Order Form and send it to the address on the form with a check made payable to HSANH. To order electronically, email the pertinent information on the form (or attach a scan) to historicalsociety@hsanh.org, and pay with the link below. Your order will be acknowledged, and you will be notified when your brick is placed.

Thanks for helping us in our mission of remembering those who have passed.