David B. Clark Wigwam Preservation Fund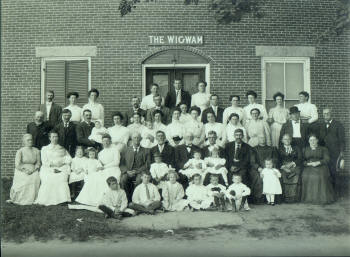 Help Save the Wigwam Museum!

Make a donation today!
Thanks to the Milford Rotary Club's Robert F. Jackson Community Improvement Fund*
for kicking off our campaign with a generous contribution of $6,000!
The Wigwam Museum - which houses many of our town's artifacts and hosts a number of community programs and events - is in trouble. Over the past few years, we've noticed cracking in the brick façade and in the interior's decoratively painted plaster ceiling in several locations. A structural analysis of the building by master post and beam expert, Glenn Dodge, determined that the walls are bowing. At the time of the analysis, the roof was also past its useful life. The plan was to raise the needed funds and tackle both projects simultaneously.

That plan changed, however, when a windstorm in March of 2021 blew a number of shingles off the roof, making replacement a priority. With the money already raised, and dipping into the Historical Society's existing funds, we were able to hire Eaton Exteriors for the roofing project. They also installed engineered plywood over the sheathing to add much-needed stability to the structure, and bought us some time for the next phase of further reinforcing the structure.

We're in the process of developing a plan for the additional structural reinforcement along with the preservation/restoration of the painted ceiling. Since the Historical Society's only source of income is through membership dues, donations and fundraisers (we receive no financial assistance from the Town of Amherst), we do not have the means to pay for these repairs out-of pocket. Once we have the numbers and plan in place (hopefully by the Fall of 2022), we'll kick-off a formal capital campaign and have already created the "David B. Clark Wigwam Preservation Fund" for designated donations.

Former Historical Society President Dave Clark devoted much of his tenure caring for the Wigwam and spearheading ways to make this unique facility more visible and accessible to the community. Under his leadership the interior was reconfigured, allowing us to host speakers and programs, social events, meetings, memorial services, local craft fairs and much more. Dave also was key in developing a plan of action when the structural issues became apparent. It therefore seems fitting that the Preservation Fund is named in his honor as we attempt to achieve our shared goal of preserving the Wigwam for generations to come.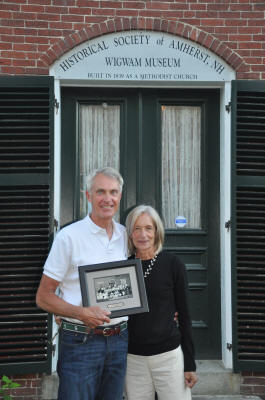 Dave Clark with wife Sue after the announcement
of the Preservation Fund named in his honor in June 2018.
*Bob Jackson (1935-2010), an accomplished architect by profession, was an active community volunteer and served as an Amherst selectman, a member of the Amherst Planning Board, and a member and past president of the Rotary Club.